This easy pineapple fried rice is fresh and super delicious. It is easy to make and packed full of flavour. The pineapple fried rice is made with grilled fresh pineapple. So delicious!!!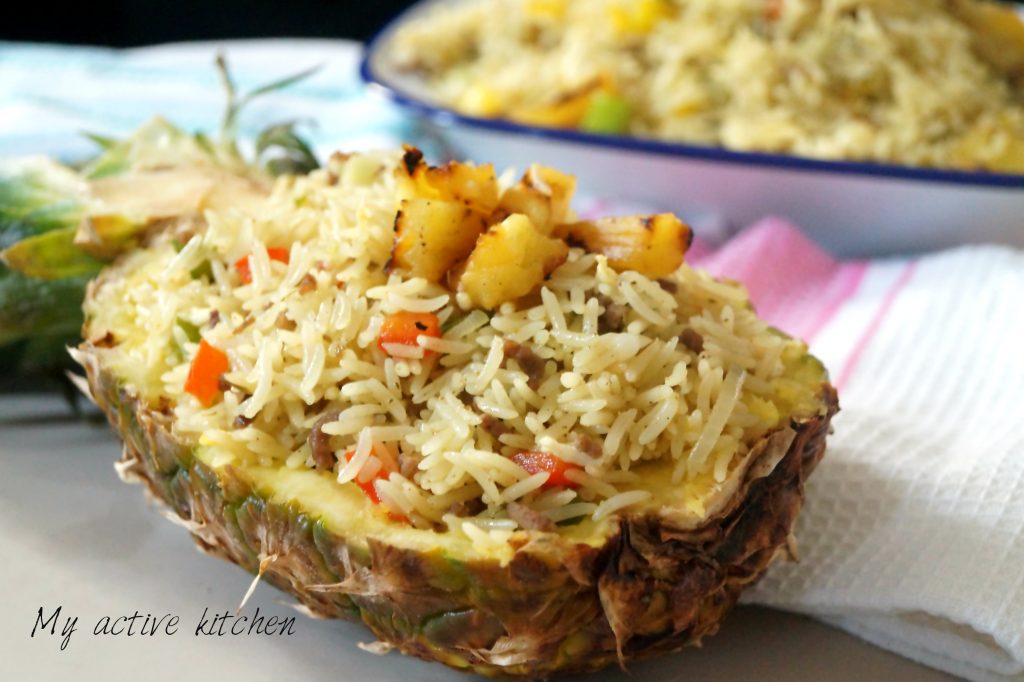 Pineapple Egg Fried Rice
Nigerians and rice, yes another rice recipe. Pineapple egg fried rice, we eat rice any day and any time. We love it so much that we can strictly go on a rice diet and not mind. Just recently, we had some Nigerians betraying our beloved parboiled white grain rice and went for some fancy rice/rice substitute like brown rice, quinoa, dark wild rice, bulgur and the likes. All these fancy superfoods, all in the name of watching our heights! I'm just kidding before you put the gun to my head. The carbs in rice are high, so it is good if you make do with substitutes once in a while. The most important thing to note if you are trying to go on a diet is portion and time control.
I'm a rice addict and I can easily eat rice three times a day. I make an effort to make my rice in different styles other than the usual white rice and stew. Today's recipe is my spin on pineapple egg fried rice. I would call this Nigerian pineapple egg fried rice as no soy sauce or any other Chinese sauce was murdered for this recipe. I love charred pineapple but I've never had it in my rice until recently and I have been seeing rice plated in pineapple everywhere for a while now too. The chance to plate fancy came up when we had a family day out at a local farm with our family friends. I made some fruit salad and I kept some pineapple for my rice. This is another way to enjoy rice and I tell you what; you would love it. Our Uncle Slim approved this too.
There are stages involved with making this pineapple egg fried rice, it requires some labour of love. From cutting the pineapple to grilling to cooking the rice etc If you want to make the job very easy in the kitchen, make preparations ahead and have it ready for when you are ready to cook. I must also say this, It is your kitchen and your food, make sure you taste your food to know if you need to make addition or subtraction.  Right my peeps, let's get cooking as there's much to do.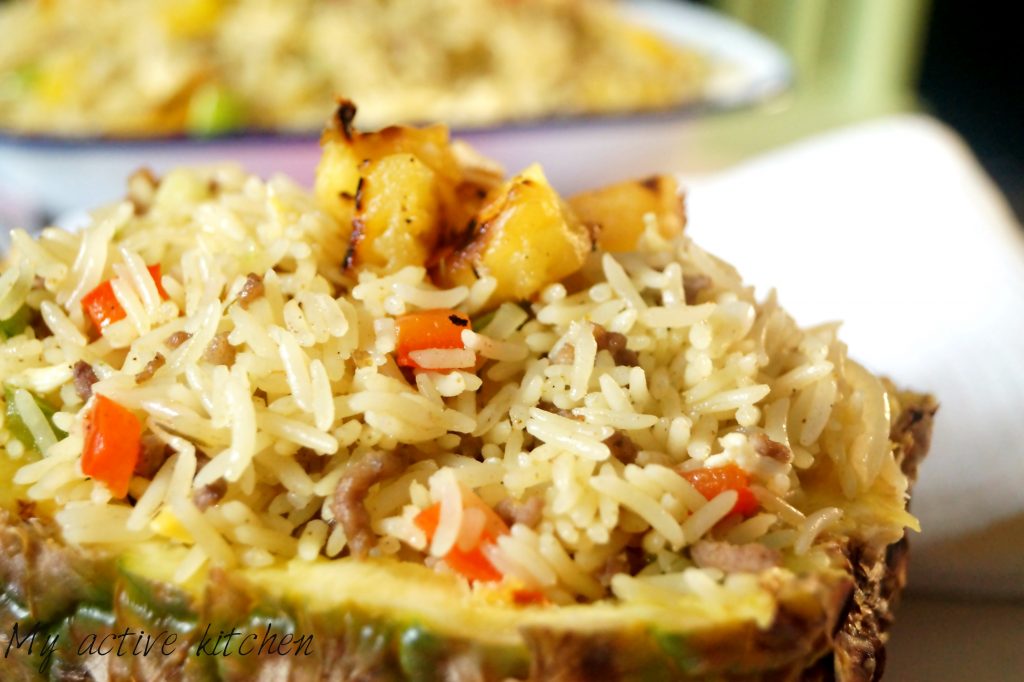 Ingredients
4 cups of basmati rice, substitute with long grain or jasmine rice
3 mixed bell peppers, diced
Spring onions, chopped
1tbsp Seasoning powder (maggi, knorr etc)
4 eggs
1 pineapple, substitute with tinned pineapple
1tsp Curry powder
Thyme
Salt
2 cups Chicken stock
1 onion, sliced
250g minced meat substitute with chicken  (you can use any other protein of choice)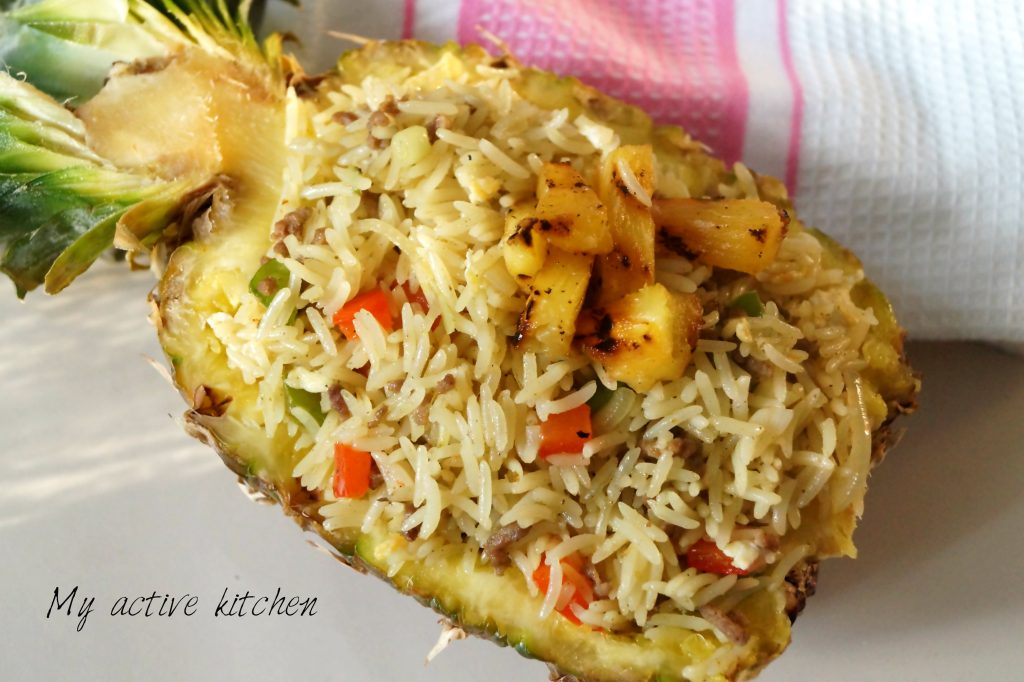 How to make pineapple fried rice
Wash rice until water runs clean and set aside
Place a pan on medium heat, add chicken stock, top up with water if needed then add the rice and stir to combine. Add 1tsp of curry and thyme and stir into the rice till well combined.  After about 15 minutes, check for salt and seasoning then add accordingly.  Add more water to rice if needed and continue to cook on low heat till it is soft. Take the rice off the heat and set aside

Now it's time to move on to cutting and grilling the pineapple if you would be using the pineapple to plate as I did, simply cut into the pineapple right down in the middle and carefully run a knife through the inside of the pineapple to cut out the flesh and leaving just the pineapple skin. See picture as guide
If you don't need to fancy up, just cut the pineapple as normal and slice them to about half an inch sizes.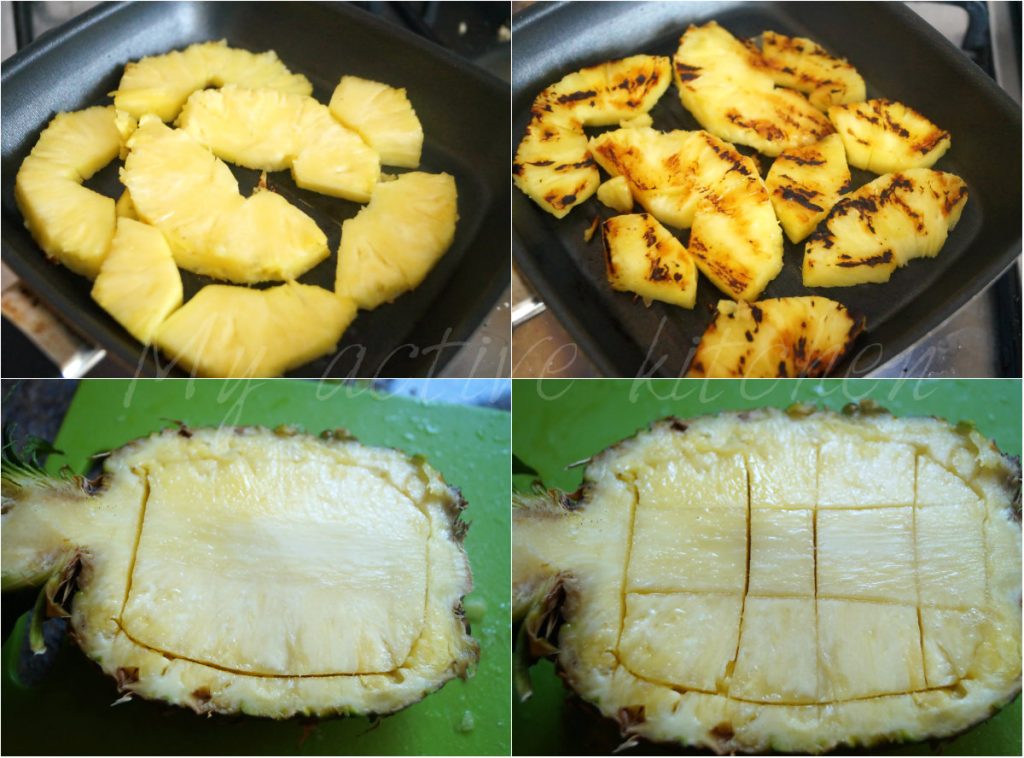 On medium heat, place a griddle pan and heat for about 3 minutes, add the sliced pineapple and cook on each side for about 2-3 minutes or until slightly charred. Alternatively place under the grill and grill both sides till charred and cut into chunks.
Ok I know it seems like hard labour now, I want you to see it as a labour of love. Don't say no yet till it is over. Lol
Time to stir fry the rice... yay!
1. Break eggs into a bowl and whisk lightly, add pinch of salt and whisk till well combined. Place a frying pan on a medium heat, add 2tbsp of vegetable oil and allow to heat for about a minute or two. Add the eggs to the pan and stir immediately till egg is scrambled. This should be in about a minute. Take the scrambled eggs of the heat and set aside. Wash the frying pan for the stir fry.
2. Place a frying pan/wok on medium heat, add about 2-3tbsp of vegetable oil and heat for about 2 minutes, add mince meat and continue to stir till mince meat is completely brown. Add the chopped mixed peppers and onions and stir till well combined. Add curry and thyme and seasoning. Check for salt and continue to stir fry for about 4 minutes.

3. If you are using a large wok, at this stage just stir the rice to the stir fry veggies in bits till all the rice is exhausted. Add the spring onions to the rice and stir to combine. Lastly, add the scrambled egg and grilled pineapple. Stir to combine and check for seasoning and salt. At this stage, the rice should not be needing anymore seasoning but if you need to add more, then do so accordingly.
3a. If you would be going through the shortcut method as I did, place the pan containing the rice on medium heat and add the stir-fried veggies into the rice, stir with a wooden ladle till well combined. Don't forget to check for salt and seasoning.

4. Take the rice off the heat and serve immediately and enjoy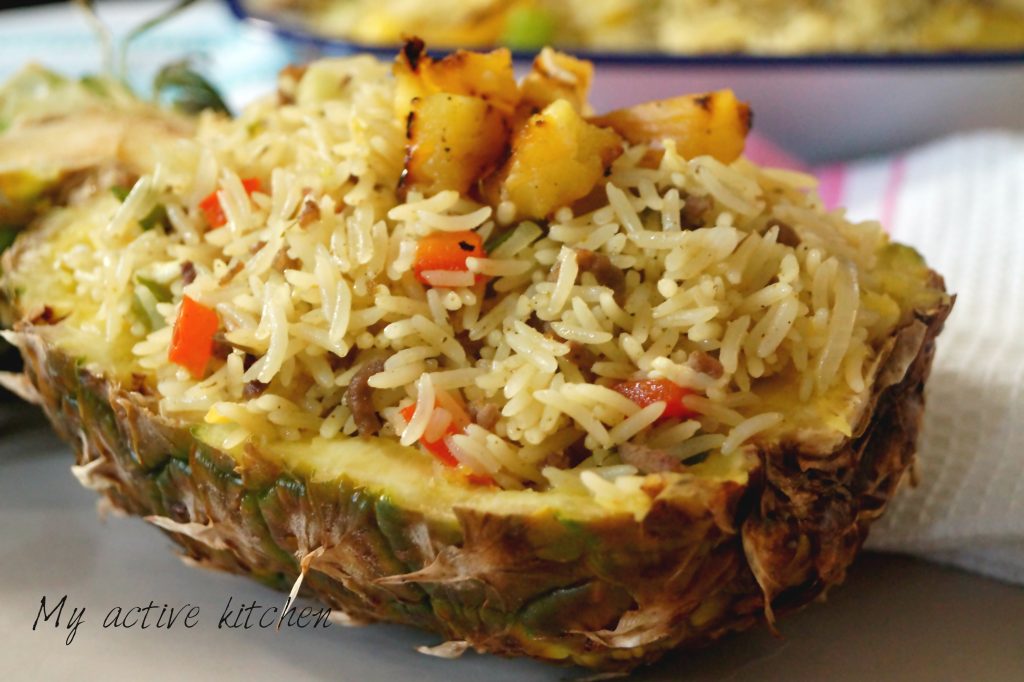 There you have it pineapple egg fried rice recipe. Kindly drop me a line or two on Instagram when you try this recipe. Thanks, x
Other rice recipes you might love