My parents were around at mine from Nigeria and my kitchen was super busy. You know why? I promised to make different meals especially Nigerian soups every day for a week. I made this efo elegusi soup on day 2 and it was loved by all. I used 3 types of vegetable leaves to cook this egusi soup and one of them is my favourite, uziza leaves. If you have been following me on this platform you would know about my obsession with this vegetable leaf.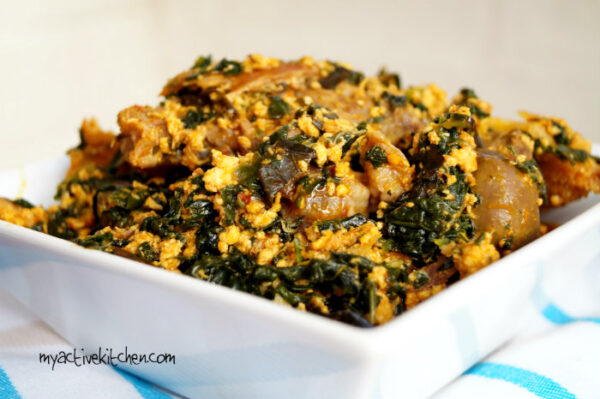 Egusi soup is traditionally cooked with 1 type of vegetable leaf and it could be waterleaves, bitter leaves or Ugu leaves. This recipe was born out of love, hehehe, just kidding, I had spinach and kale leftover from the last time I made efo riro but truth be told, lots of love went into cooking this egusi soup. You don't have to necessarily use 3 types of vegetable leaves but it would be nice if you get your hands on uziza leaves and use another vegetable leaf of choice.
The aromatic flavour from uziza leaves takes the soup from zero to a hundred. It is da bomb, if you've tried my ace efo riro here then you would understand what I am talking about. This egusi soup was made with the simplest of ingredients and it did meet up to expectation.
Ok people, let's do this. Get your pan and apron and let's get cooking, to be honest, I didn't measure any of the ingredients used so bear with me if the ingredients listed are not precise.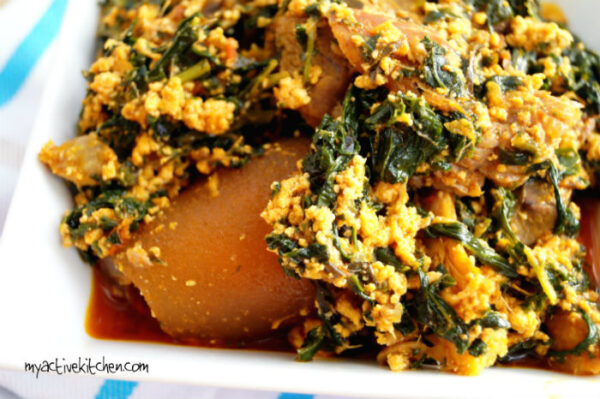 Ingredients
11/2 cups ground melon
350g spinach, chopped
250g kale, chopped
1-2 handful uziza, chopped
2-3 Csp Palm oil (serving spoon)
1wrap locust beans
Salt
Beef bouillion 
Smoked fish
Assorted meat/offal (shaki, ponmo, liver, lungs )
Pepper mix ( tatashe, ata rodo and onions)
Water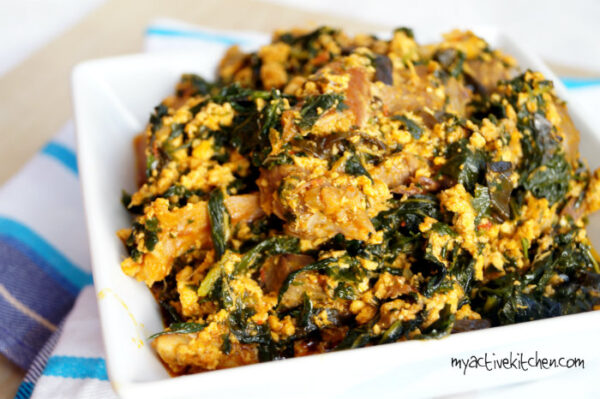 How To Cook Efo Elegusi
Rinse the vegetables and leave to drain. If you would be using frozen vegetables, allow thawing before using. Squeeze out excess water and set aside
Wash and rinse assorted meat clean. If you would be using offal, it is best you first boil with just water and a little salt for about 12 minutes to get rid of the blood. Rinse clean afterwards and then bring to boil, add salt, seasoning, onions till tender. Reserve the stock for the egusi soup
Now let's move on to the soup. Quick tips before we start, go easy on the salt when cooking egusi soup. If the meat stock is well seasoned, you might not need to season the soup anymore. If you have to use salt at all, let it be the last thing you would add to the soup. Egusi soup has a way of sucking up salt and if care is not taken, you end up with soup tasting like it is cooked with seawater
Add warm water to ground melon to form a paste
Place a pot on medium heat, add palm oil, heat till hot and add chopped onions
Add the melon paste, reduce the heat and continue to stir till egusi start to form lumps. Keep an eye on it so it doesn't burn or stick to the bottom of the pot.

Add the blended pepper to the fried egusi (melon) and stir to combine, add stock or water to lighten the soup. Add the cooked assorted meat and bring to boil for about 15 minutes making sure you stir at interval. Add the locust beans and continue to cook for another 5 to minutes, check for salt and seasoning and add according to taste, shred the smoked fish into the soup and stir carefully to avoid breaking the fish.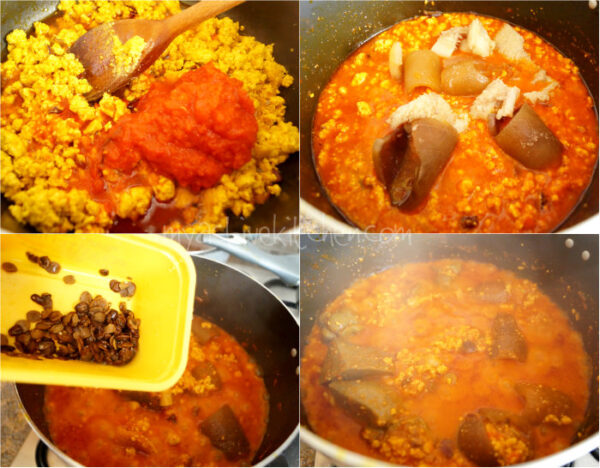 Add the vegetables to the egusi soup and stir till well incorporated into the egusi soup. Add water if need be, check for salt and seasoning and adjust to taste.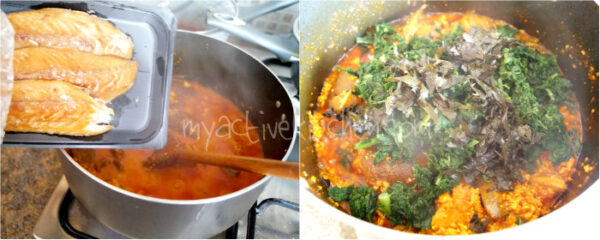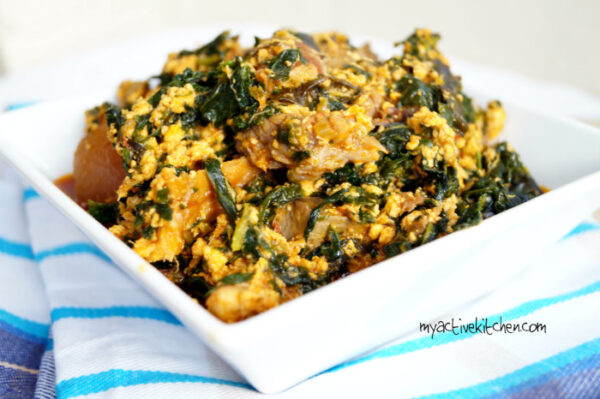 Other Nigerian Soup recipes you will love
See how easy it is to this make efo elegusi soup... I would like to see what you have been cooking with our recipe, don't forget to tag @myactivekitchen on Instagram, facebook or simply send me an email. See you on my next post