This is the best-peppered cow leg (cow foot) recipe ever... Yes, if I do say so myself. This is a perfect recipe to entertain friends with this summer and on cold nights, it is spicy, succulent, juicy and delicious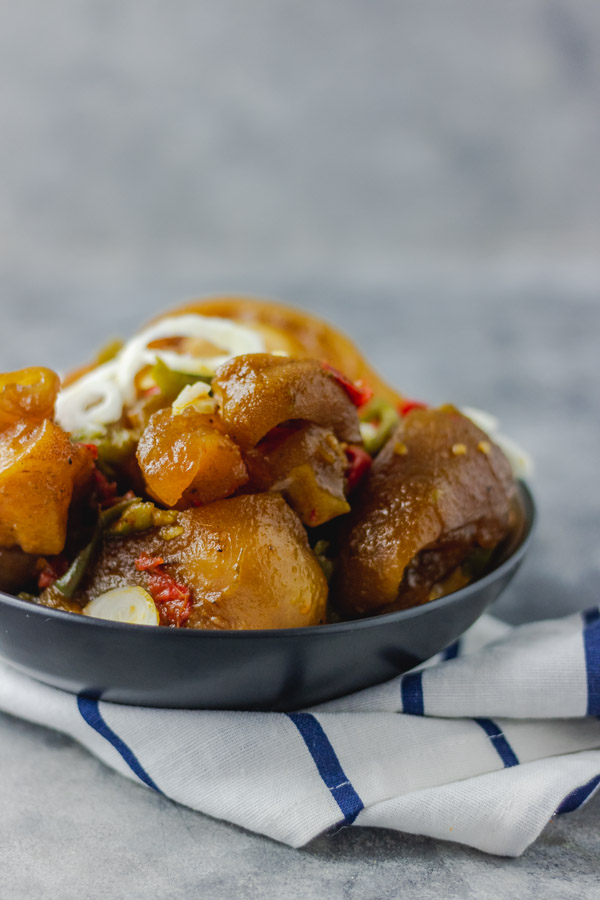 Peppered cow leg (Bokoto)
Let me clear the air before I talk about this recipe, this is not nkwobi. I usually make peppered chopped cow skin (ponmo) for hubby and his friends but this time I decided to make it with cow legs but with another twist. Cow foot is also called cow legs or bokoto in Nigeria. This cow leg recipe can serve as an alternative to cow leg pepper soup and you can adjust the chilli to your own taste.
UPDATE: The hotter you make this peppered cow foot (bokoto) the better I tell you, this is one of the easiest recipes I have whipped up in my little kitchen. Boy, I still love and cook it till date...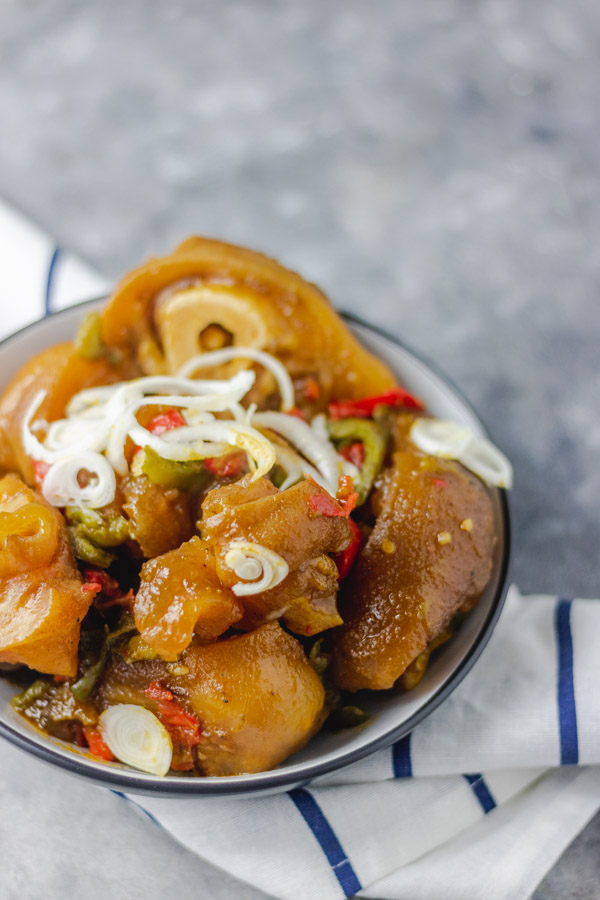 Ingredients
1.2kg cow leg pieces washed
1tbsp pepper soup spice
3 garlic cloves
1 medium size onion
1 cubed size ginger
Seasoning
1 medium tomato, sliced
1 red bell pepper, chopped
Salt
1tbsp cayenne pepper
2-3 scotch bonnet chilli, chopped (optional)
1 green bell pepper, chopped
1tbsp palm oil
uziza leaves to garnish, chopped (optional)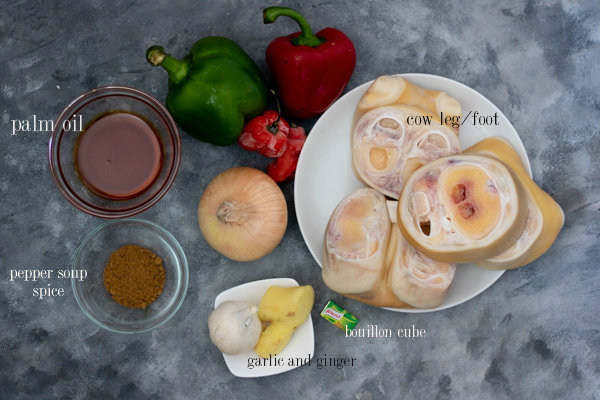 How to make peppered cow leg (bokoto)
In a blender add onion, ginger, garlic and blend with little water until smooth
Place a pan on medium heat and add the pieces of washed cow leg, blended mixture, pepper soup spice, salt, seasoning and little water (adjust salt and seasoning to your taste) bring all to boil until tender. You can use a pressure cooker for this as it is quicker.

Once the cow foot is tender to your liking, reduce the heat, check for salt and seasoning (reduce stock if it is much, you only need a little for your peppered cow legs)
Add diced peppers and cook for another 3-5 minutes (stir in between)
Add palm oil and sliced tomatoes, stir till all is combined and cook for another 5 minutes

Serve with any cold drinks of choice
Drink Recipes perfect with this recipe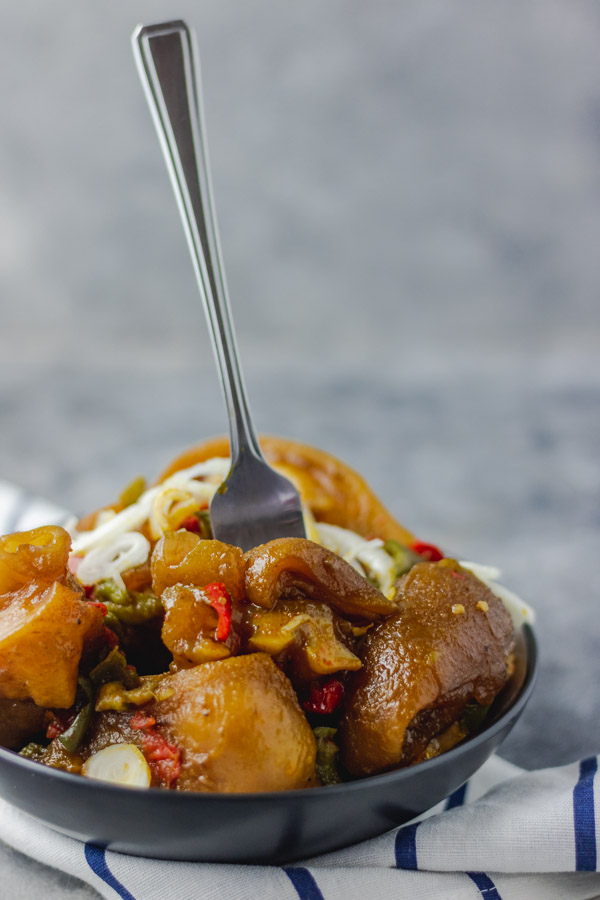 Peppered cow leg
Peppered cow leg or cow foot, this recipe is another delicious way to cook cow leg apart adding it to stew or pepper soup. Cow foot is also called bokoto in Nigeria. Peppered cow leg is great to entertain friends with and it can be eaten as a complete meal too
Ingredients
1.2

kg

cow leg pieces washed

1

tbsp

pepper soup spice

3

cloves

garlic

1

medium size onion

1

cubed size ginger

2

Bouillon cube

Salt

1

medium tomato

sliced

1

red bell pepper

chopped

1

green bell pepper

chopped

1

tbsp

cayenne pepper use according to preference

2-3

scotch bonnet chilli

chopped (optional)

2

tbsp

palm oil

optional

uziza leaves to garnish

chopped (optional)
Instructions
In a blender add onion, ginger, garlic and blend with little water until puree

Place a pan on medium heat and add the pieces of washed cow leg, blended mixture, pepper soup spice, salt, seasoning and little water (adjust salt and seasoning to your tastbring all to boil until cow leg is tender. You can use a pressure cooker to cook this as it is quicker.

Once the cow foot is tender to your liking, reduce the heat, check for salt and seasoning and adjust accordingly (reduce stock if it is much, you only need a little for your peppered cow legs)

Add diced peppers to the tender cow leg and cook for another 3-5 minutes stirring in between to combine.

Add palm oil and sliced tomatoes, stir till all is combined and cook for another 5 minutes. Lastly, add chopped uziza if using. Take it off the heat and serve immediately with any cold drinks of choice
This recipe was originally published in February 2015 but now updated with new photos and recipe card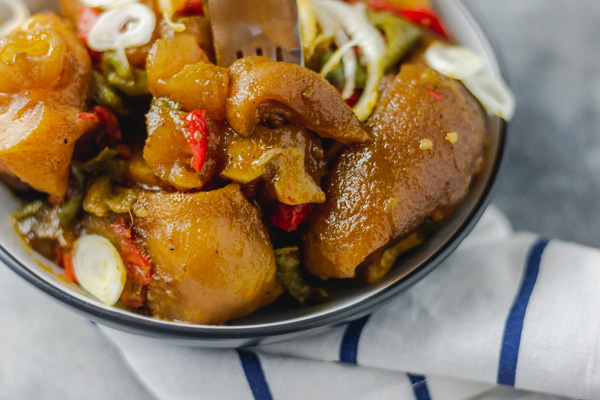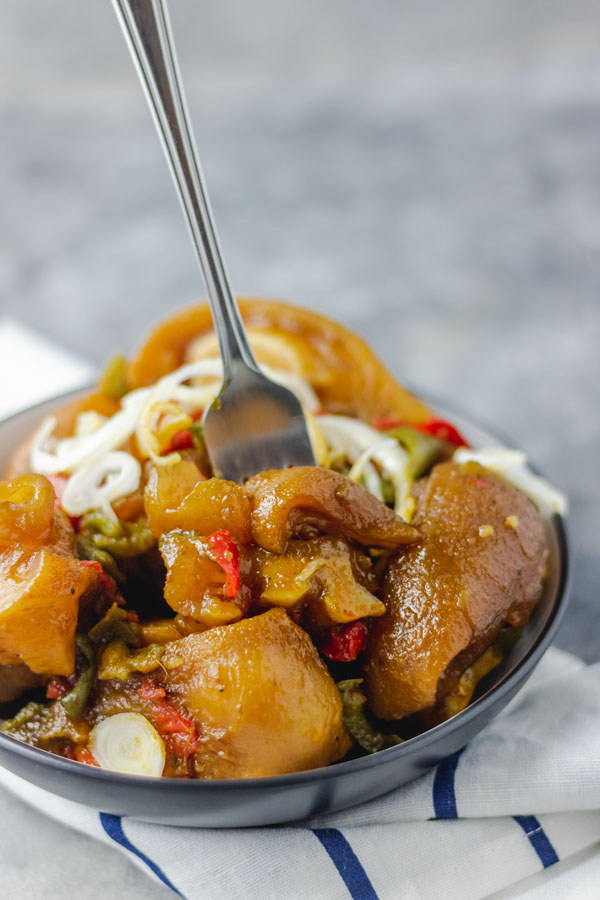 If you made this delicious spicy recipe, don't forget to leave me feedback. Tag me on Instagram and save away to your Pinterest
ATB
Ajoke x