Vegetarian Jollof rice, this Jollof rice is perfect for all veggie eating lovers and for anyone whose children doesn't like vegetable like mine...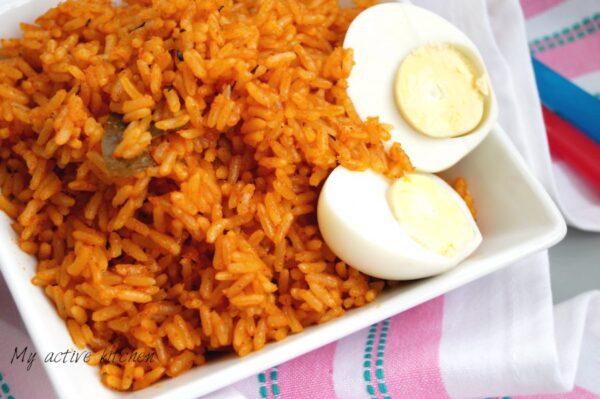 Vegetarian Jollof Rice
I was cooking noodles for my little one the other day and immediately she saw me bringing out the peas from the freezer, she went 'no mummy I don't want it in my noodles'! I thought she was joking and well, as a mother I told her she is so eating it. She insisted and stuck to her guns 'mummy please I don't want it'. I went ahead and added the peas to her food. My daughter ate the food and left all the peas for me in her plate. Why am I telling you this story? I know many parents would also be struggling to get their children to eat vegetables just like I do. I tell you what, the struggle is real. My daughter eats fruits so I can't really moan, but I still struggle to get her to eat vegetables.
This vegetarian Jollof rice is inspired by one of my very good friend, Karo. She is a mum and her child is very fussy when it comes to eating vegetables too. She came up with an idea of pureeing vegetables and adding it to the tomato base sauce for Jollof rice or other meal. This way when she's cooking for her son, he'll get some vegetables in his meal without him knowing and this does not compromise the taste of the food at all. You might be thinking, it's not a great deal but I'm going to tell you this 'at all at all naa im bad pass' (as we say in Nigeria) It is better in their meal disguised than not getting any additional nutrient in their meals at all.
I made this vegetarian jollof rice adapting my friend's method, I have made it a few times now and I tell you what, the taste and colour of the jollof rice were not compromised at all in this yummy recipe. Jollof rice is one... Scratch that, Nigerian Jollof rice is another world on its own. A very big deal in Nigeria, Nigerian parties and the whole of Africa. It is now popular all over the world but the Nigerian version is the best. Yes, I just said that!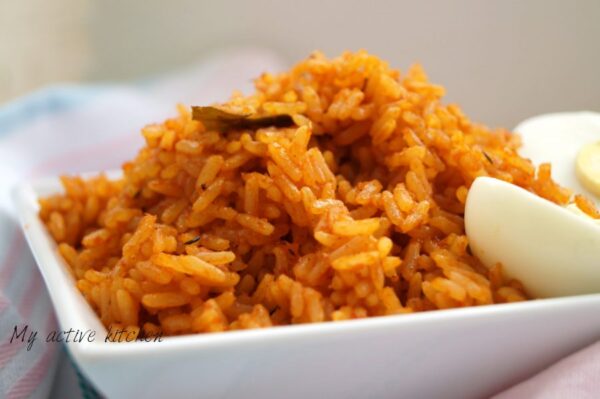 Ingredients
4 cups long grain rice
3 medium/large red bell peppers (Tatashe)
2-3 Scotch bonnet (ata rodo)
2 medium tomatoes
2-3tbsp tomato puree
1tsp Curry
100g passata (optional)
1tsp Thyme
Ground garlic and ginger (substitute with fresh ones)
2 onions
1tsp White pepper
Salt
Vegetable stock cube
2 tbsp butter
4 bay leaves
4 cups of mixed vegetables
½ cup of vegetable oil


Tips for making Perfect Jollof rice
since I already have a detailed jollof rice recipe here, I would only be sharing the first half of the recipe and you can always finish it off by using my jollof rice post.
Also when making jollof rice don't be tempted to add too much water as once your rice is about 80% soft, all you would need is just a tiny bit of water (if you have to) and the steam from the pot when the rice is cooked on low heat should do the rest. Do this to avoid a soggy mess. Keep the lid on throughout this process
Always taste and adjust for salt and seasoning when cooking. I am not an advocate for 'I don't taste my food when I cook' I taste and taste till I'm satisfied with my seasoning and spices are balanced, Bland food is a no-no.
If you are cooking for children, reduce the amount of salt and seasoning you use. Truth be told, I didn't add salt to this rice and that is because my stock was well seasoned. I only used seasoning cubes to achieve my desired result.
You can parboil the rice for some few minutes before adding it to the tomato base but I never do. (I might be trying it out soon) stick with this method if it works for you.
It is important you know your rice before cooking to avoid a soggy mess or undercooked rice
Make sure you achieve a well-cooked tomato base sauce before adding the rice; If you don't want to be left with a raw pepper-tasting jollof rice.
This step is totally optional. I roasted the peppers in other not to overcook the mixed vegetable used. If you don't have an oven simply use the boiling method and add the blended vegetable after you have boiled the pepper.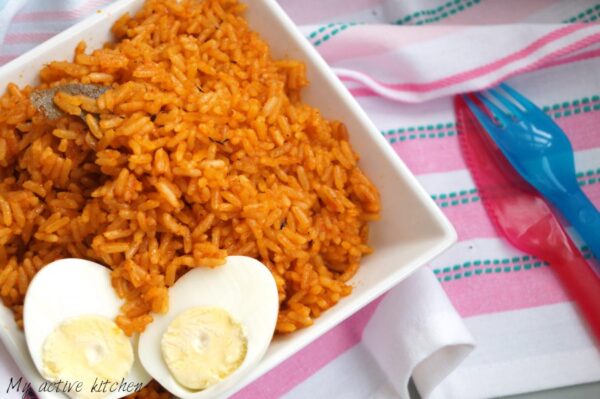 How to make tomato base for Jollof rice
Preheat the oven on 180⁰C
Rinse and cut the peppers and onions in halves, spread them out on a baking tray. Add a splash of oil and roast for 25 minutes.
Once this is done, leave to cool and blend with the mixed vegetable till smooth. This should yield between 3 to 4 cups of pepper mix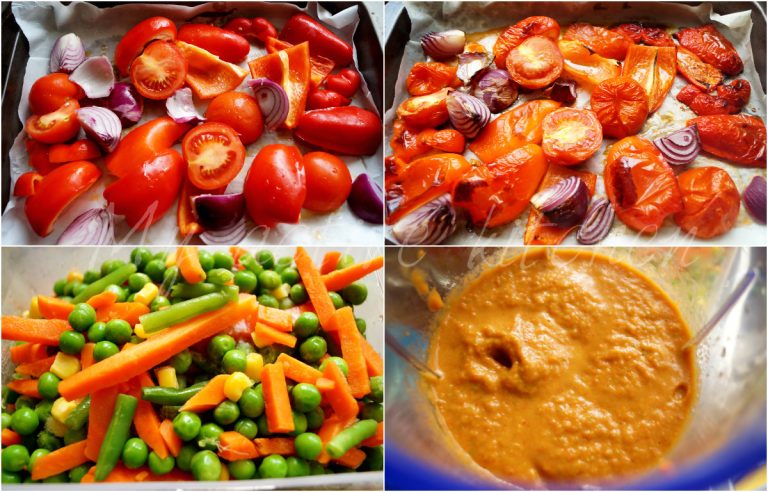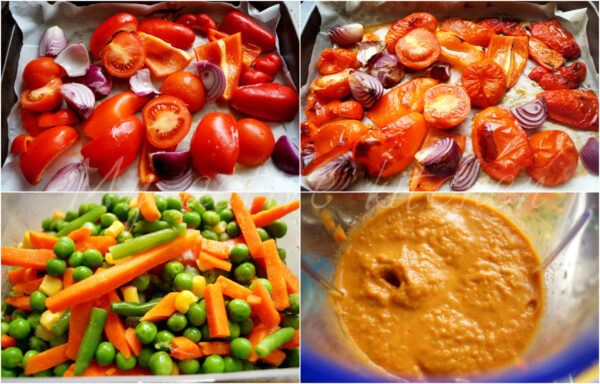 The colour of the pepper will be orange or funny colour, don't be alarmed. It will work out fine once you add the tomato puree.
On medium heat, add vegetable oil and heat for about 2 minutes. Add curry and thyme and fry on low heat for about a minute or two.
Add the pepper mix into the oil and stir till well combined. then add tomato puree, bay leaves, ginger, garlic and stir to combine, If the pepper starts splashing at this point (mine was uncontrollable), just reduce the heat or cover the pot with a lid and cook till oil float on top the sauce.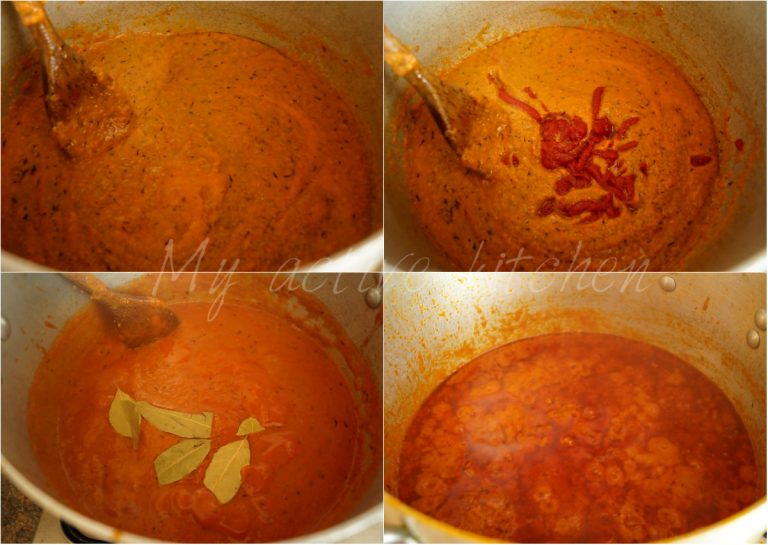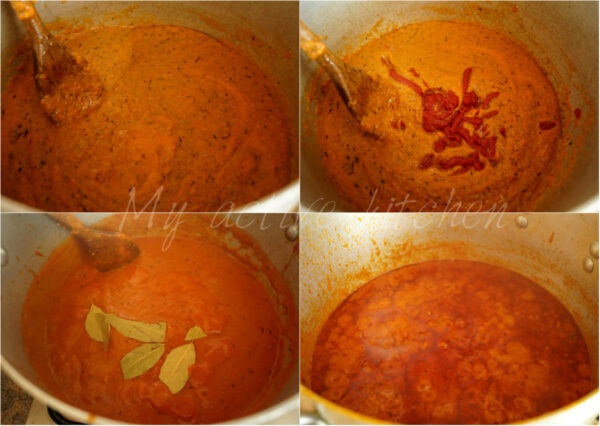 see the sauce colour balanced out in the 4th picture.
How to cook vegetarian (vegan) Jollof rice
Whilst you are waiting on the pepper to cook, wash your rice and set aside. If you would be parboiling the rice, this is the time to do so.
Taste and adjust the sauce for seasoning (vegetable stock cube) and salt (you might hold back on adding salt)
add rice to the tomato sauce, stir to combine then add enough water to cover the rice by just about half an inch and you can add more as needed later. Continue to check the rice to avoid burning and stirring it frequently.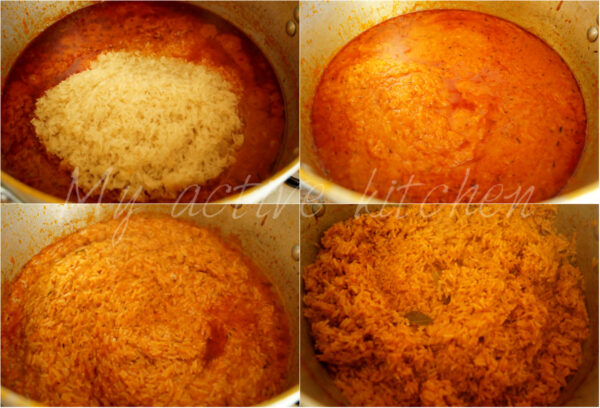 once the jollof rice is about 90% cooked, add butter, do not add water at this point. cover with foil or parchment paper, reduce the heat and leave to cook till well done. Once the rice is completely cooked, leave it to sit for about 5 minutes before serving it. Fluff rice with a fork or ladle and serve with another side of choice


What to serve with it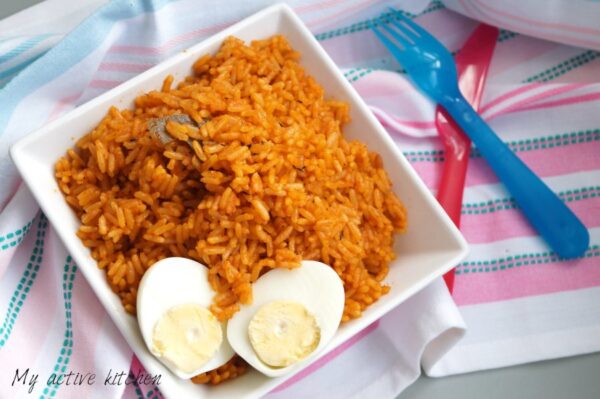 Don't forget to take a picture if you made this jollof rice recipe and tag my active kitchen on Instagram if you make any recipe from the blog. I also love reading from you all, leave a comment or send me an email. If you are yet to subscribe to the blog, kindly do so and you won't miss any new post from us again. Don't forget to use the share buttons below too, sharing is caring. Until next time, be true to yourself